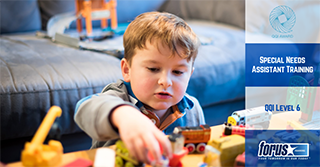 Special Needs Assistant SNA Course Mullingar QQI – Level 6 6N1957

What do special needs assistants do?
Special Needs Assistants are a vital part of the school team. They provide care and a helping hand with education for the individual with an additional need. The SNA forms a great relationship with the child, and the other children in the class. They model acceptable behaviour, and they liaise closely with the teacher to ensure that the student's needs are met and their educational journey is successful. 
Special needs assistants are also an excellent support to the teacher. They often help with class tasks such as preparing displays or outings. SNA's may also support students outside of school, perhaps acting as a bus escort helping them on their journeys to and from school. 
Special Needs Assistants play a vital role in the life of a child with an additional need. They provide security in a hectic school environment that allows a child to be all they wish to be. This supportive role model can allow a child the safe haven they need in times of upset or distress, and can also become a life long friend to the child as they bond they form is so great.
Who are our learners?
Our course is very popular with a variety of people that may have personal experience with an additional need, whether their own, or family members. Our students come from backgrounds including those working towards a career as a Special Needs Assistant, parents, , grand parents, extended family and those involved in the community (e.g. football and hurling coaches, scout leaders and others involved in community groups).
Our SNA graduates have gone on to work in the field with great success.
Do I receive tutor support throughout my course?
YES. Our tutors have years of experience with special needs across a variety of sectors, from Early Years, to SNA and even Nursing. Throughout your course you will have support and guidance from your tutor.
Is the SNA or Special Needs Assisting course difficult?
Most SNAs start by doing a short course in special needs assistant training. Our course is 8 weeks in duration and students submit their assignments 2 weeks after the final class. As with everything little and often wins the day. Most of our tutors recommend students to submit drafts of their work to receive continuous feedback throughout the eight week period.
Forus Training offers classroom-based SNA courses that require students to attend one evening per week. Group interaction is an important part of each class with learners benefiting from class discussions. We cover topics such as the role of the special needs assistant relating to children with special needs.
Students need to have a Level 5 Certificate or Leaving Certificate and/or relevant work and life experiences to register for the course. To obtain the QQI Level 6 Certificate, students will also need to complete a work placement module. This work placement section requires that learners can spend 20 hours minimum with the individual they intend to carry out the observation and activities with. This can be in any setting, with consent being required. If access to a school does not fit around an individual's busy schedule, we also accept these activities being carried out in other environments such as the child's home, or out of school settings with consent given. 
Our tutors come from a variety of backgrounds, from Early Years, to Nursing, but they all have two things in common; their love for the SEN sector and their level of dedication to helping their students excel in their studies. Our tutors provide their contact details at the start of the first session, and encourage learners to communicate with them throughout to ensure they can provide whatever level of support students may need. 
As previously mentioned, we also encourage communication within classes, and have found that many groups set up their own Whatsapp group to communicate outside of class. We have found this helps students complete the course, knowing that they are supported in achieving their qualification from every side.
Our course is intensive, but it is well planned and presented to ensure students do not feel overwhelmed. Good communication within class means that at the first sign of a student feeling overwhelmed or worried about the workload, the class and their tutor are there to support them. We find our courses are easily managed, with a very high pass rate visible from our graduates.
What qualifications do I need to be a SNA?
Forus Training delivers a QQI level six award in Special Needs Assisting that will set successful candidates up for SNA positions with a distinct advantage. While the DES circulars pertaining to the qualifications of a special needs assistant state that the outlined below are the minimum requirements, our course will see you attain a certification higher than the outlined. 
The minimum required standard of education for appointment to the post of SNA is:
A level 3 qualification on the National Framework of Qualifications, OR

A minimum of three grade Ds in the Junior Certificate, OR 

Equivalent. 
We ask our SNA candidates to practice reflection and evaluation in our courses as one of the most important skills an SNA can have alongside their qualification, is the ability to reflect and develop their practice. 
Special Needs Assistants will also require continuous professional development in practice. We offer a QQI level 5 in Challenging Behaviour which can equip Special Needs Assistant with the knowledge and skills needed to work with challenging behaviour they may find in practice. 
First Aid Training and Manual Handling are also great qualifications for the SNA. SNA's  may also have to attend C.P.D. courses such as Lamh (Irish sign language) P.E.C.S (Picture exchange communication systems) and  training in other practices related to individual disabilities.
Our QQI level 6 Special Needs Assisting course will equip you with the knowledge, skills and qualification required to confidently carry out the duties and responsibilities of a special needs assistant.
This QQI level 6 qualification enables you to work in both primary and secondary schools, and also enables you to work with children and adults within a variety of other roles and care settings.
How long is an SNA course?
Forus Training's QQI level six course is delivered over a period of 8 weeks, with submission of assignments due two weeks after the final class session. These sessions take place one evening per week, from 6.30 p.m. to 9:30 p.m. 
The sessions take place in comfortable environments, conducive to learning. We run SNA courses across the country. The first session is used as a settling in period, and a brief overview of the course and the assignment. 
We encourage students to carry out independent study for at least four hours a week outside of class to ensure they get the most from their studies. These four hours can be spent reading up on conditions, activities to work on and SNA practice in general. 
This individual study will expand students' knowledge bases and encourage them to develop a greater interest in the sector.
What's involved in an SNA course?
Forus Training delivers 8 class sessions that entail the students attending tutor sessions, but also giving their own input at each session. Our classes contain a mix of group and individual work, and plenty of feedback from our tutors. The SNA course will look at many different areas relating to special needs care and education, including an examination of inclusion and integration, methods of curriculum implementation and challenging behaviour and how to handle it in practice. 
We have eight sessions per course, and we ask for full attendance where possible. With full access to the course, our students have all the support they need to complete their assignments, and attain their certificate. 
The course consists of a variety of delivery methods, from PowerPoint slideshows, to in class activities. 
How much does a special needs assistant earn?
Under the DES circular pertaining to SNA pay (https://www.education.ie/en/Circulars-and-Forms/Active-Circulars/cl0053_2018.pdf) SNA's can earn between €23,353 and €39,110 dependent on their length of service within an organisation.
For information regarding salary click on the link Salary Information Department of Education
Course Information
Click on the the link to book your place – BOOK NOW
Click on the link to download our course outline – 6N1957 QQI Level 6 – Special Needs Assisting